EDI Via VAN/EDI Network
Avoid the complexity of multiple EDI connections through a single network.
The vast majority of EDI still occurs via EDI VAN also known as Value Added Network. Despite the emergence of some basic, low-cost approaches, such as Web EDI or EDI via AS2, the EDI VAN model continues to be the preferred option due to the value- added service that EDI VAN providers can deliver. Often companies look to implement a hybrid strategy in which different types of EDI are implemented as appropriate to the business, but the EDI VAN remains the core to these installations.
What is an EDI VAN?
Companies just starting off with their first EDI connections, may choose to set up direct EDI or point-to-point connections to other EDI enabled businesses, which quickly turns into "integration spaghetti". Although this scenario provides great flexibility, the problem is that the cost scale is the size of the trading community which becomes very expensive and very complex, very quickly.
To simplify the complexity of managing multiple EDI direct connections, a company can use a single connection to an EDI VAN, which provides partner connections. The EDI VAN is simply a secure network where EDI documents can be exchanged between a network of business partners. An organization will be provided with a mailbox by the EDI VAN provider. Documents are sent and received from there and the organization checks the mailbox periodically to retrieve its documents. Most EDI VAN providers offer an alerting service that informs the sender when messages have been sent successfully and also notifies the recipient that a new message is waiting.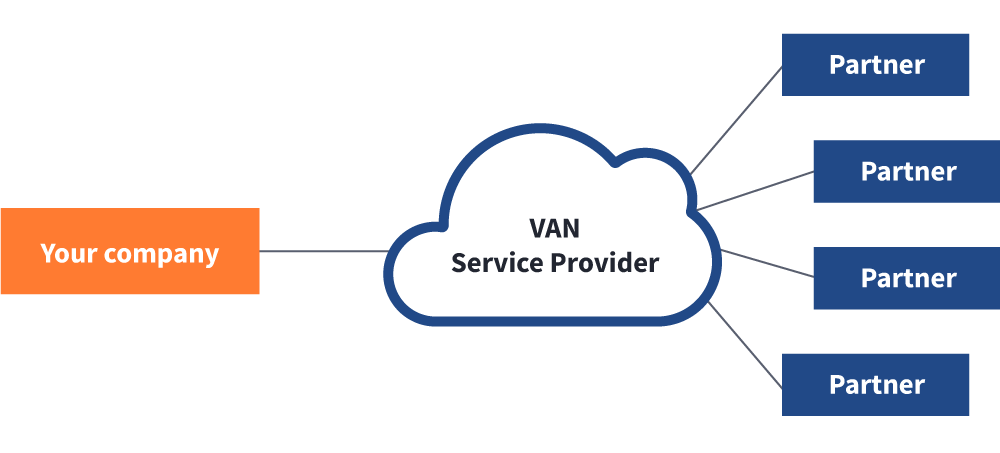 Benefits of an EDI VAN
In addition to the many EDI benefits your company can realize by moving away from manual paper-based document exchange, companies who enlist the services of an EDI VAN provider can take advantage of additional value added services, such as:
Secure communication channel. Electronic data transfers can be made securely using encryption
Full mailbox service. Messages are automatically routed to the correct mailbox. Business partners connect to the EDI VAN to retrieve their messages
Inspection and authentication of all EDI messages. The EDI VAN will verify the identity of the business partner and validity of the message
Expanded network connections. By connecting with a network of companies, a business can quickly onboard and begin trading with new EDI-enabled partners.
Support for a variety of protocols. Since a VAN sends data with a variety of protocols, it creates a fast communication channel allowing each party to use the data format most suited for their organization, which is critical for setting up a scalable business model
Full audit trail. All EDI messages are tracked and recorded
Message notification. Business partners are notified when message enters their mailbox
Ancillary services. EDI VAN providers offer an extensive range of EDI VAN services including data backup and recovery, document mapping and compliance
The Future of EDI and VAN
Each time new document exchange standards appear, discussions suggest this may be the end of EDI. However, after over 50 years, EDI is still going strong due to its flexibility to absorb new technologies into its networks. XML and APIs all have their place, but EDI volume continues to grow as well. It turns out that new protocols and standards just add to the complexity requiring more sophisticated EDI VAN services that can truly handle any-to-any connections.
The enduring appeal of the EDI VAN is based upon the value-added services that the EDI VAN provider delivers:
Robust, highly available infrastructure
Real-time visibility and analytics
Large pre-connected trading partner community
Fast business partner on-boarding and enablement
Back-office integration
Management information and reporting
Ability to upgrade to a fully managed service (EDI Outsourcing)